Financial Messaging Services
Engage and reach securely and productively with a proven mobile messaging solution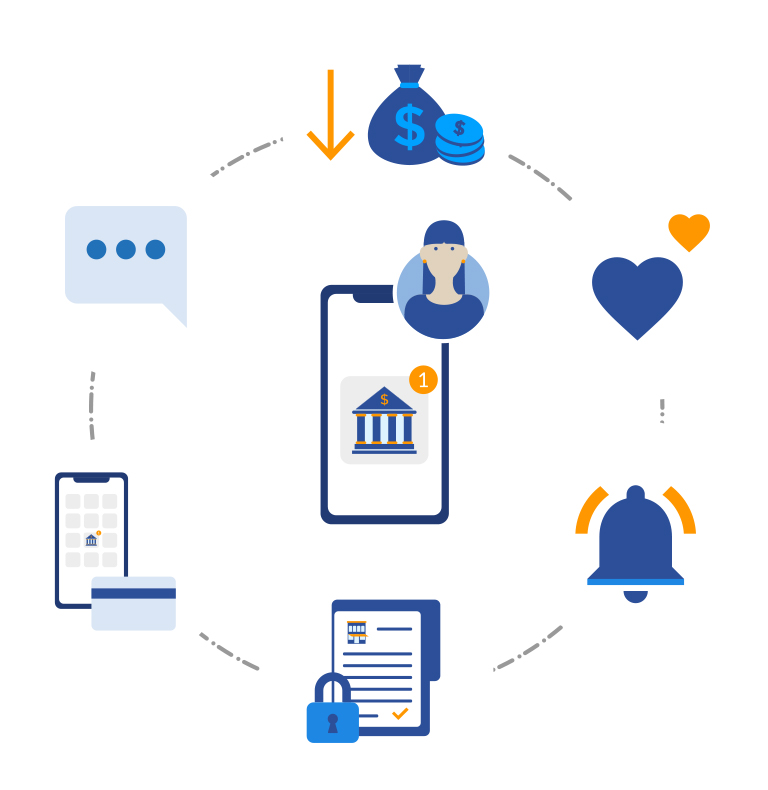 The Importance of Communication in the Banking Sector
The behavior of the banking customer is rapidly changing, thus pushing financial organizations to improve and offer their services on different digital channels, in order to keep pace with their competitors.
Did you know that financial firms without a digital transformation strategy risk a 60% profit drop?
Financial messaging services are necessary to improve the current digital transformation strategy and face the demands of the post-pandemic customer.
The pressure is on for CDOs to meaningfully connect digitally with consumers to improve the customer experience. To put it simply, banking institutions can't afford to put off investing in a financial digital communication strategy that improves the customer experience and nurtures authentic connections with consumers at every opportunity of engagement.
Embracing Digital Transformation in Financial Services
Banks are facing fierce competition for customer loyalty against new 'digital-only' banks

Only 53% of banks' customers have truly adopted mobile banking apps (The Financial Brand).

Pandemic lockdowns increased online banking adoption by only 3% (The Financial Brand).

CX strategies limited to 50% of small banks customers can cost them more than $20M a year (Forrester).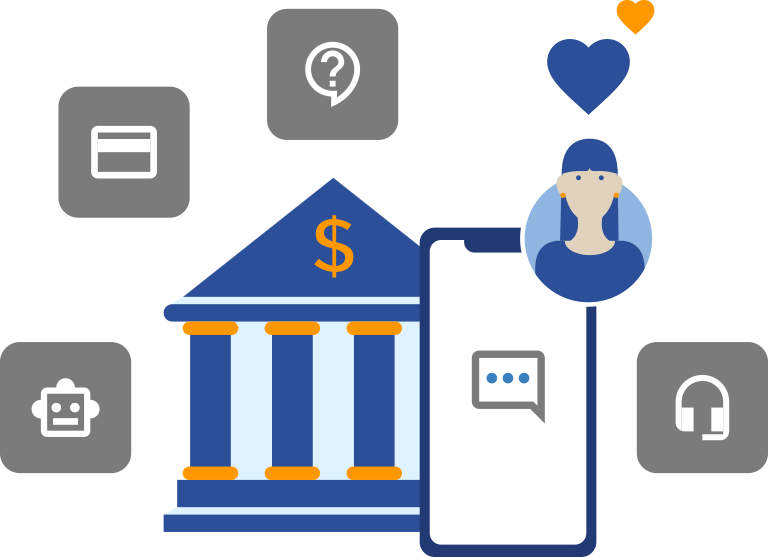 "Soprano Design's Whole of Government communications solution is the most comprehensive government/citizens communications platform available in this segment to date. This platform facilitates modular departmental use cases or broad-based agency notifications. It also meets security and compliance regulations, that can be customized by agencies or regions. While other CPaaS providers are offering piece meal offerings, Soprano Design's platform will be well received for its consistency and orchestration capabilities."
Courtney Munroe, Research VP, WW Telecommunications Research, IDC. February, 2020
A Business and Banking Communication with Trusted Mobile Interactions
Soprano's trusted omnichannel messaging platform enables you to create more efficient and faster communication throughout your financial ecosystem.
The platform is built for scale, speed, and deliverability along with geo-redundancy to handle volume spikes and maintain high platform availability.
With the capabilities of real-time 2-way mobile interactions, it offers a truly seamless, personalized, superior customer experience across all digital channels – Voice,  SMS,  Email, RCS, WhatsApp, Interactive IP messaging.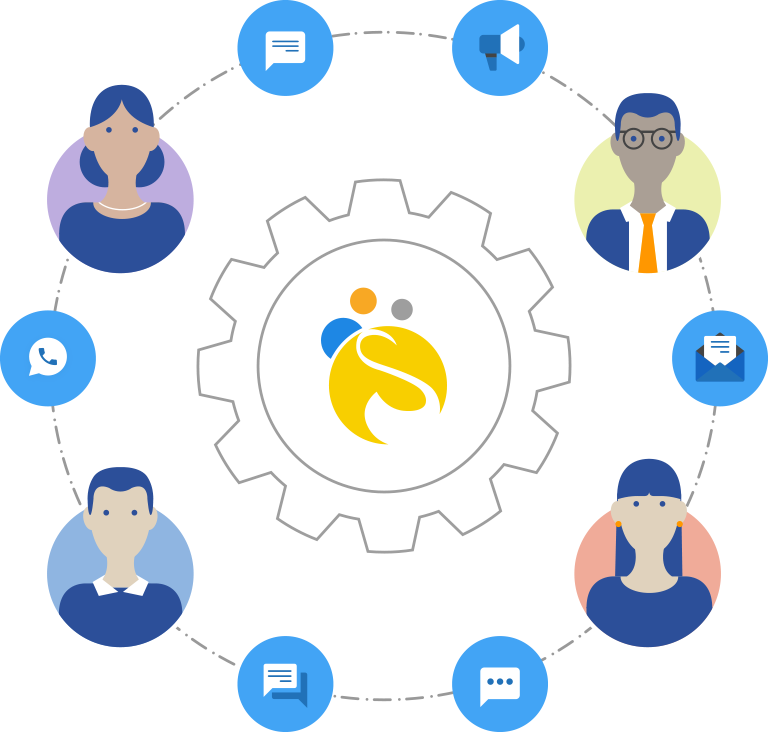 Enabling Business Communication for Digital Financial Services
Soprano Connect is a proven intelligent, geo-redundant and feature-rich software platform that currently delivers message volumes in excess of 50 million mission-critical messages a month worldwide and has demonstrated its ability to handle volume spikes and maintain low message delivery latency and high availability.
Our unified communication platform integrates easily with any banking IT system and empowers financial organisations to automate customer service-related processes on a variety of communication channels faster, while delivering an excellent experience.
Mobile messaging in the financial sector unlocks the door to truly meaningful, personalized engagement, which has a direct impact on the bottom line:
84% of businesses that focus on enhancing the customer experience report an increase in revenue.
92% report increased customer loyalty. In a sea of banking options and competition, customer loyalty has never been so valuable to a bank's long-term success.
With API integrated digital mobile interactions, many financial companies around the world are improving their CX and the overall performance, both in productivity and revenue.
Embrace Digital Transformation in Financial Services with Soprano Connect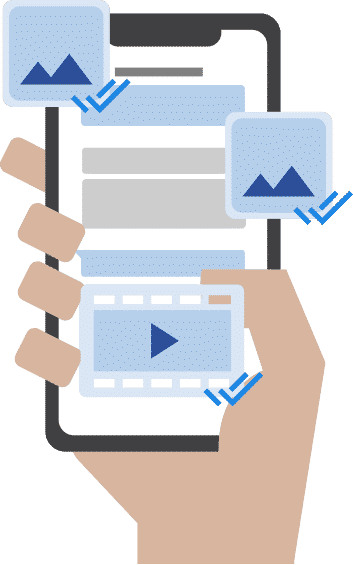 Soprano Connect enables banks to improve CX
The proliferation of mobile wallets, payment apps, fintech, and digital banks make it really easy for bank consumers to navigate to fast, easy alternative solutions.
CX involves every interaction point – from marketing to sales to customer service, and each of these touchpoints presents an opportunity to meaningfully engage with consumers or risk losing their business in a crowded competitive market.
Soprano Connect enables banks to improve CX using the channels customers engage with the most:
Confirmation of time and delivery address

 

Keeping customers informed on the latest promotions, with targeted offers
Short and precise messages which have a higher open rate
Improving the quality of your service and building up your customers' confidence
Solutions for Financial Messaging Services
Soprano Connect is a complete 2-way mobile messaging delivered through a single user interface for inbound and outbound messaging via email and SMS. It helps automate communication and workflow processes integrating with current IT systems throughout one o facility or multiple facilities.
Smart Integration
Integrate secure and encrypted mobile messaging features with your IT systems. Reduce time to benefit with a SaaS model and lower your on-site hardware costs.
2-WAY MULTICHANNEL MESSAGING
Access a comprehensive 2-way communications platform through a single user interface for inbound and outbound secure mobile messaging.
CPAAS Model
Soprano Connect is a cloud communications platform. There's no need for on-premise software or costly infrastructure on the part of the customer to host the software.
Omnichannel Messaging
Automate your communications using SMS, Voice, RCS, WhatsApp for Business, IP Messaging and email. Reach users to their preferred communication channel.




Critical Incident Management

System-Integrated Mobile Messaging

Mobile Team Collaboration

Remote Worker Communication

Customer Marketing Communication
Featured Financial Messaging Use Cases
Engage and reach securely and productively with a proven mobile messaging solution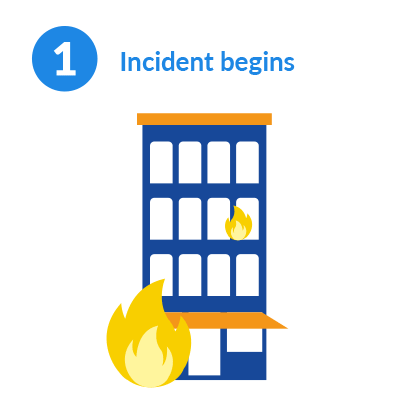 Internal Incident Management
Soprano Connect allows you to send workers safety check messages to validate if a worker is safe, follow-up responses, and escalates if no responses are received depending on time rules.
Rapid Response
Trigger alerts from any web-enabled device, in or out of the office, at any time of the day or night and deploy time-sensitive information to the right people from wherever you are.
Communicate Richly & Securely
Share information quickly and securely during an incident with pre-set contact groups, updating key stakeholders about the situation and measures being taken.
Archive & Audit Mobile Conversations
Message logs and conversations are searchable and downloadable and our online portal provides detailed and configurable reports to fully audit mobile conversations.

A Platform for Business Continuity Planning
Provide a rapid broadcast notification system and 2-way SMS throughout the organisation. Soprano Connect enables ongoing communication during and after an incident.

Urgent Response & Worker Safety
Trigger alerts at any time from any web browser, on or off-premises. You can also use your mobile device to initiate broadcasts via SMS and pre-configure messages to deploy time-sensitive information quickly.

Rapidly Adapt to Changing Circumstances
Combine groups, ask for delivery confirmations and check real-time reports during an event. Send ad hoc notifications  or schedule pre-recorded broadcast messages.
B2C High-Volume Mobile Messaging
Create opt-in SMS account management and loyalty programs and use Soprano Connect to automate how you send reminders for payments due or late payments, announcements, account messages and increase response rates for promotional mortages.
Connect includes sophisticated tools for large-list management, multi-site deployments, permissions-based real-time reporting and high-volume performance.
SMS 2-Factor Authentication
Provide unique mobile security tokens to validate account holder identities with temporary one-time passwords.
SMS for Finance Marketing
Do a banking and financial transformation with a better customer-centric approach. Create a direct and personal relationship with account holders by integrating SMS within your existing CRM systems and enable your teams to send targeted messages to their customers.
Bank Account Alerts Via SMS
Send RSA 2048-bit encrypted mobile alerts notifying stakeholders and account holders of important account activity, transactions and payment reminders.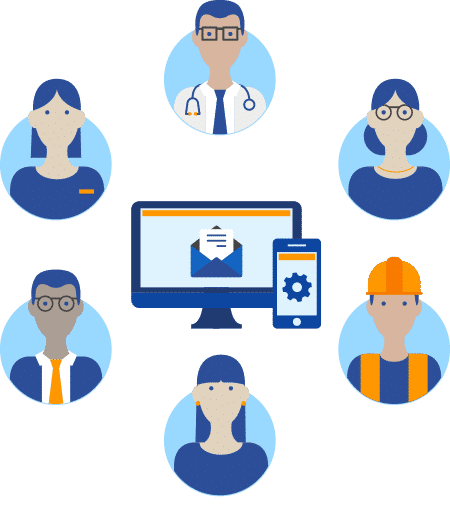 Use SMS for Customer Marketing
Consolidate Omnichannel with your existing CRM systems to achieve a personal relationship with your account holders and customers. Send promotions, discount offers, and announcements.

Manage Account Alerts via SMS
Send automatic mobile reminders for due or late payments or alert account holders about important account information. Soprano Connect provides an audit trail with full archival of all mobile conversations.

Prevent phishing and fraud
Soprano can help you with fraud-protection and SPAM compliance rules and regulations to ensure your customer experience and lists stay positive. Manage a whitelist and blacklist.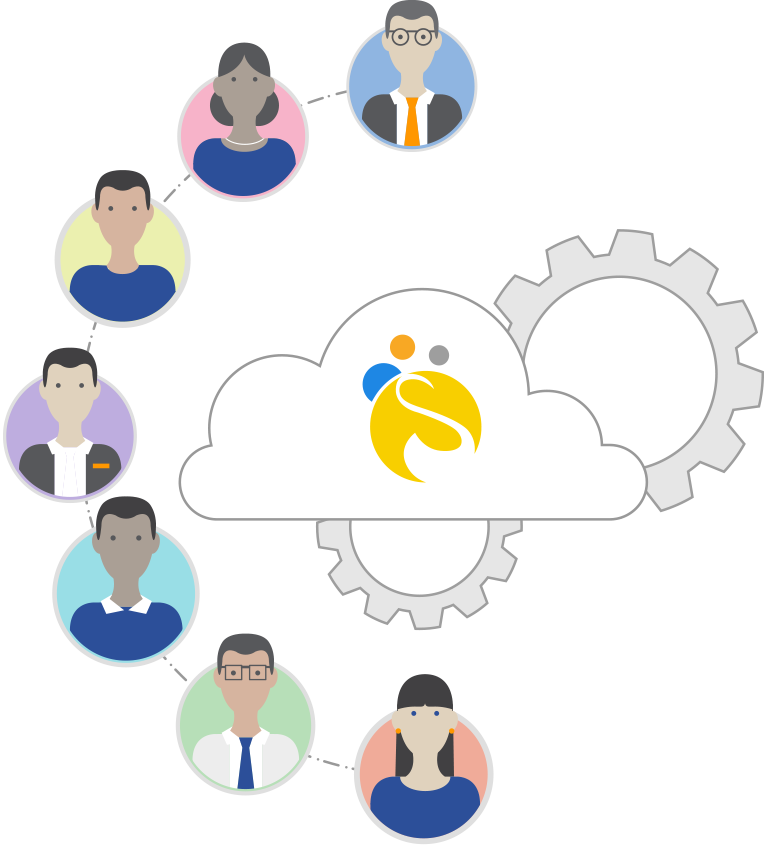 API-Integrated Mobile Messaging
Use our APIs to integrate Omnichannel messaging into your existing company IT systems. Soprano Connect can enhance your existing communications and systems with mobile interactions. Soprano Connect is used widely today as a complement to leading financial institution IT administration systems, CRM systems, and well as various industry alerting and facility IT systems.
Use a Smart API for Integration
Integrate our mobile solutions seamlessly into your existing IT and CRM systems. Enhance your existing processes and easily build mobile messaging into your workflows.
One-Time Passwords
Generate and send unique security tokens via SMS, to provide One-Time-Passwords as a second layer of authentication.
Integrate with Existing Security Systems
Our mobile enterprise messaging systems are compatible with RSA SecureID, F5, Citrix, IBM and other 3rd-party OTP systems that can be used when RSA hardware tokens aren't feasible or desired.

Sophisticated "Smart" APIs
Soprano Connect includes advanced API capabilities and major APIs such as HTTP/S, REST, WCTP, SNPP, SMPP, FTP, SMTP, SOAP/WSDL, and much more. 

One-Time Passwords
Generate a security token that can be sent via SMS to your employees' and customers' mobile devices as a One-Time-Password. OTP via SMS is a low-cost way of implementing 2FA.

Automated Reminders & Confirmations
Send reminders and alerts more effortlessly by incorporating business messaging in your current IT systems.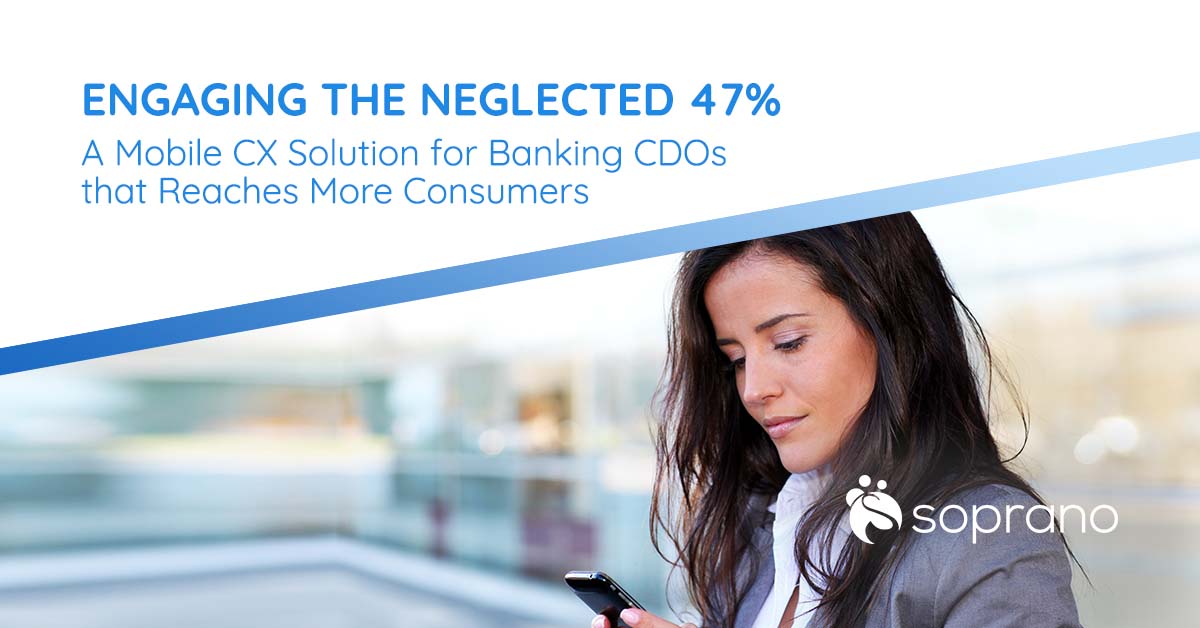 Whitepaper: Engaging the Neglected 47%
The pandemic didn't introduce a digital transformation trajectory for the banking industry, but it definitely fast-tracked the trend for some. However, only 53% of bank customers have fully adopted mobile banking apps, and the pandemic only increased online banking adoption by 3%.
Banks that engage this missing 47% of customers who haven't adopted online or mobile banking can open the door to increased revenue, greater customer satisfaction and loyalty, and a broader customer base.
This whitepaper explores the phenomenon of disengaged bank consumers, strategies for digital transformation and how a mobile customer experience platform helps banks reach and meaningfully engage this group.
Download the Whitepaper Now
Soprano Connect is a leading communications platform-as-a-service (CPaaS) profiled by Gartner in their 2019 CPaaS market guide.
We send over 9 billion mission critical messages per year, from over 4.5 million active users. Our customers include over 150 Global Fortune 2000 companies. Soprano products are used actively by global top-100 companies, leading financial institutions, and large government agencies in four major world regions. Soprano's award-winning engineering and innovation has resulted in a powerful cloud-based enterprise platform that powerfully integrates IP, SMS, MMS, voice, and location into a seamless secure business mobile messaging experience.
Soprano are heavily focused on providing a solution which gives you high engagement rates and results. We have a team of experts based worldwide ready to help you with your business requirements.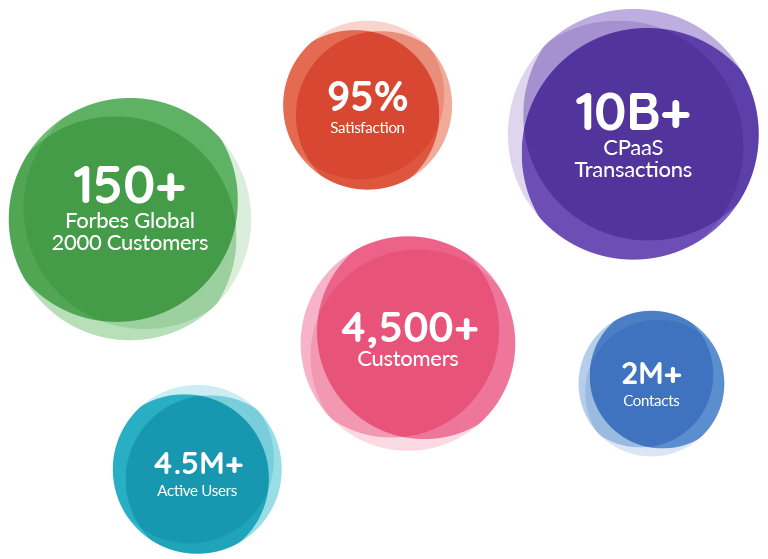 Soprano Connect's Customers
Soprano Design have more than 4500 customers globally across APAC, EMEA, LATAM and the US.
Our customers range from large corporations to independent companies across every industry possible including Government, Healthcare, Finance, Education, Retail, Manufacturing and Logistics.
Get in touch to discuss how to get started with RCS.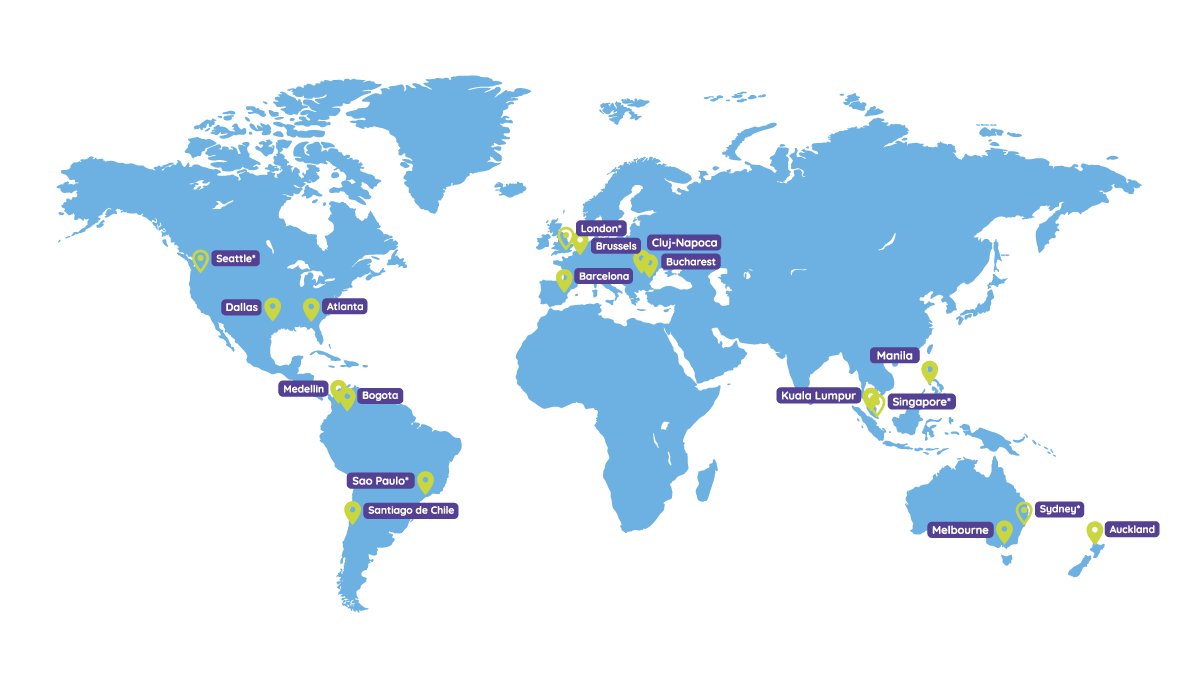 Soprano Connect is a leading communications platform-as-a-service (CPaaS) credited by IDC as a "Major Player" in CPaaS and by 451 Research as a "CPaaS Vendor to Watch" in 2021.
Soprano Connect is a leading global CPaaS solution, proudly featured by

Guides and Resources for Financial Messaging Services
Related Content
10 Reasons about the importance of communication in banking
Discover ten ways finance companies are evolving digitally to keep up with customer expectations in our latest infographic.
The age of the customer in financial services
Webinar: Hear from leading financial services industry experts insights into CX challenges and mobile connectedness in the finance space.
More information about Use Cases for Financial
Learn about the benefits from improved multi-channel communication in banking.
The digital transformation in financial services
Discover the radical leaps in financial services technology that has revolutionised how we interact and communicate.